Prevent, stop, or reverse the effects of bone loss with dental implants services in Brampton, ON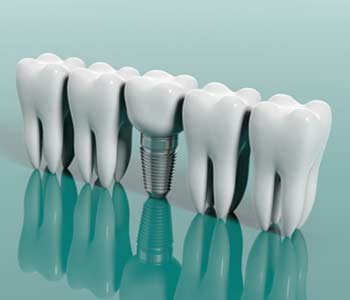 You've come to the right place to smile confidently and to chew without pain. Dental implants services at Kensington Dental in Brampton, ON prevent the devastating consequences of missing teeth. In fact, this tooth replacement approach that mimics the structure and design of natural teeth can even reverse the effects of bone loss.
The process of bone loss (resorption) occurs when teeth are missing. Biting and chewing preserve bone density and strength. When teeth are not present to transmit the natural forces from chewing and other functions, bone is gradually lost. Bone deterioration or resorption alters bone structure, resulting in changes to your profile and appearance as the height of the jaw decreases and muscles pull back from their original positions. As support from the bone is lost, lips "cave in." Overlying tissues sag, giving rise to prominent wrinkles due to facial collapse. Progressive bone loss also affects the gums and ridges in your mouth, and surrounding teeth.
Implants: Designed as nature intended
Dental implants are designed to replace natural tooth roots. Embedded in the jawbone, roots provide the stability that is needed for teeth to function properly. Often made from medical-grade titanium alloys, implants provide the same support as natural tooth roots when precisely placed in the jawbone. Healthy function allows the bone to be stimulated, which preserves bone structure and prevents resorption that normally occurs after a tooth is lost or extracted. With implants, it's as if the bone thinks there is a natural root and healthy tooth still present. In turn, implants not only halt the progression of bone loss, but in some cases, they can reverse resorption and restore the health and bony structure of the face and jaws.
Implants are versatile. A single implant supports a replacement tooth, similarly to the way a conventional bridge replaces a missing tooth; however, traditional bridges require that neighboring teeth be reduced in size to accommodate the crowns. These adjacent teeth serve as abutments; they support the pontic or artificial tooth. To provide sufficient support to the pontic, abutments must be crowned. Crowns involve the removal of a small amount of natural tooth structure, because they fit snugly over the prepared teeth like a crown fits over your head. Unlike bridges that are retained or supported by implants, conventional bridges don't have a replacement tooth root to support them and to provide the stimulation needed for bone strength. So, these bridges can't prevent bone from dissolving.
Implant-supported bridges or dentures can be used to replace several missing teeth.
For patients who are missing many or all of their teeth, a few carefully placed implants can support many teeth on a denture. An implant isn't needed for each and every tooth. Think of this way:
Implants are placed in areas of the mouth where they can provide maximum support to several teeth.
Strategic placement helps to reduce implant-related costs and treatment time, and to promote faster healing and recovery.
Dentures are then connected to these precisely-placed implants by way of fittings that allow the denture to snap on and off.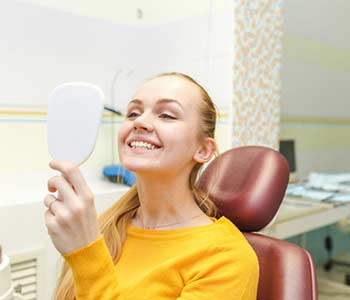 As with implant-supported bridges to replace a single tooth or a few teeth, the forces from chewing and other functions are transferred to the bone – preserving its height, density, and strength. Conventional removable dentures are supported not by underlying bone structure, but by natural suction or adhesives. So, these dentures compromise bone and actually accelerate resorption due to the pressure placed on the gums and hard tissues. Dentures must be periodically relined and, in some cases, completely replaced as facial structure continues to collapse and bone loss worsens.
Dr.Deepak Joshi and his associates are happy to provide Kensington Dental denture patients with the skills and expertise of Haseeb Hafeez, an experienced denturist. Patients' experience with tooth replacement such as dentures depends heavily on proper fit. Haseeb is adept at making fantastic-fitting dentures that look natural – these are not your grandparents' "false teeth"!
With good hygiene and recall appointments at Kensington Dental, patients can enjoy new teeth that look, feel, and function like "real teeth" for life. Call (905) 791-7549 to schedule your appointment at the Brampton, ON office.