Brampton, ON area dentist describes the purpose of dental crowns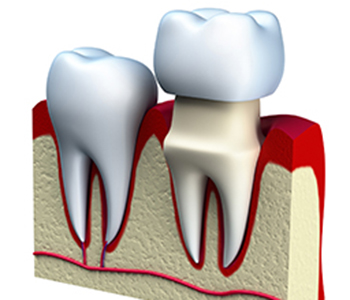 Patients in the area of Brampton, ON visiting Kensington Dental have a well known dentist in the area at their fingertips! Dr. Deepak Joshi and his team of professionals assist patients with a wide range of dental services. From cleanings and examinations to full mouth reconstruction and laser therapies, patients can rest easy knowing they've chosen a trusted dentist to provide them with a lifetime of beautiful smiles.
Certain restorations may be required to maintain the health and wellness of the smile, in addition to addressing aesthetic issues. Dental crowns play an important role in general and cosmetic dentistry and allow patients to protect and strengthen weakened teeth.
What is a dental crown?
A crown is best described as a porcelain "cap" that is cemented or bonded over a tooth's structure to give it an extra layer of protection. It can be used in cases when a tooth has an extremely large cavity, has undergone root canal therapy, or has been damaged by injury. The dentist prepares the tooth, then takes impressions, which are sent to a dental laboratory for the fabrication of the crown. Patients have a temporary crown placed until their permanent one arrives, then they visit the practice again for placement.
Why dental crowns?
Situations such as these may require the placement of a dental crown:
Restoration of a dental implant
Fabrication of a dental bridge
Breakage of the natural tooth structure
Weakened tooth structure caused by root canal therapy or large fillings
Dr. Deepak Joshi of Kensington Dental encourages patients to learn about restorative options that may be used within their smile when returning its function, appearance, and health, including dental crowns! His friendly, front-office team can be reached by calling (905) 791-7549 to schedule a consultation appointment and initial, no obligation evaluation.