Dental implant supported bridges are a cost-effective solution for patients missing teeth in Brampton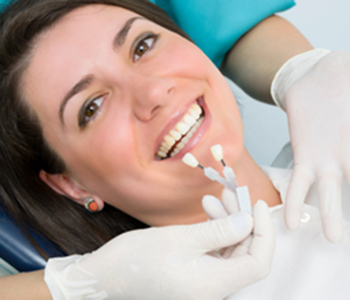 Dental implants and bridges have both stood the test of time as a reliable answer to missing teeth. Patients who are missing teeth experience changes in both appearance and functionality of the smile. Suddenly, simple everyday tasks such as biting, chewing, and speaking are no longer easy. This can be frustrating and embarrassing to patients.
At Kensington Dental, we believe our patients deserve options for replacing teeth that fit within their budget and lifestyle. Dental bridges have long been a cost-effective way to restore lost functionality and return beauty to the smile. These prosthetic appliances consist of a support structure (two dental crowns) and artificial teeth to literally "bridge the gap" from missing teeth.
Dental implant supported bridges build upon this standard of treatment, but instead of supporting the artificial teeth with dental crowns placed on natural teeth, they are supported with dental implants. These implants are placed into the jawbone to create a permanent structure to support the bridge.
Dental implant bridges are typically used when there are several missing teeth. Because implants require sufficient bone structure, a bone graft may be necessary before patients are candidates for the implants.
Implant bridges are comprised of dental implants, the abutments (the connectors), and the restorations (the dental bridges). In most cases, the process will need to be completed over the course of several months. During the initial procedure, the implants are placed and then left to heal. Once healing is complete the abutments and restorations are attached.
Taking care of your implant bridge is very important. Patients will be instructed on how to properly clean the bridge to prevent a build-up of bacteria. It will also be important to maintain regular dental visits so that Dr. Joshi can assess the health of the mouth and ensure any potential problems are caught early before they have the opportunity to progress.
Implant bridges provide patients with the security to eat and speak normally. Unlike partial dentures that sit on top of the gums, patients will benefit from this integrated solution. If you are in the Brampton area and would like to schedule a consultation to learn more about implant bridges, call Kensington Dental today.