Brampton, ON area dentist describes treatment for gum disease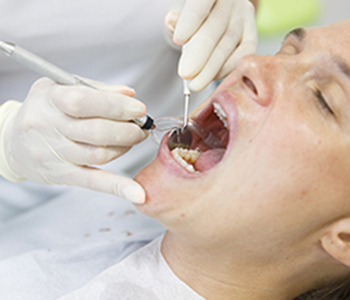 Dr. Deepak Joshi of Kensington Dental in Brampton, ON assists patients with their dental care needs. From general to cosmetic solutions, he offers treatments for a number of situations. When patients have been diagnosed with conditions such as gum disease, they require specific services to bring the smile back to health.
What is gum disease?
Gum disease is an inflammatory condition that can negatively impact the overall health of the smile. Dr. Joshi encourages patients to be vigilant about protecting their smile from this disease. It is preventable with proper oral health care. This means brushing and flossing twice daily, as well as regular visits to the dental office for cleanings and examinations. By doing this, patients can control this disease.
When gum disease develops, how can patients bring their smile back to health?
The treatment depends on the stage and severity of the condition. In the earlier stages of gum disease, patients can treated with a thorough cleaning and antibiotics if needed. However, the later stages may require laser treatment. Our practice offers the Ivoclar Vivadent Odyssey Navigator, a soft tissue laser that can be used to remove infection from the gum tissue with a laser light. This can sometimes eliminate the need for more invasive procedures.
Dr. Joshi speaks with patients about their oral health and wellness and describes ways to obtain the smile of their dreams. Contact us today at (905) 791-7549 and learn about the benefits of early diagnosis and treatment of gum disease for a healthier smile. We want patients to receive a proper education on how to avoid the development of this condition and keep their smile beautiful and healthy for the rest of their lives!