Dental practice in Brampton offers porcelain veneers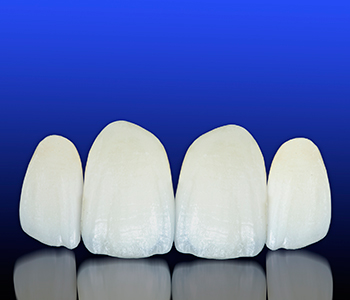 It is common for patients in the Brampton area to visit Kensington Dental to ask about ways to enhance the appearance of the smile. Our practice focuses not only on the health of the smile, but also the appearance. We know that having a beautiful smile can improve self-esteem. Patients smile more, laugh more, and socialize more because they are no longer embarrassed by the appearance of their teeth. Dr. Deepak Joshi and his team want to give patients the feeling of beauty even when their natural smile does not meet their expectations
Aesthetic imperfections can greatly affect how one feels about their smile. This is why the practice of Kensington Dental offers solutions such as porcelain veneers. Also called dental veneers, these restorations can rejuvenate the smile quickly and easily.
Porcelain veneers are very thin restorations that are custom-made and bonded onto the front of teeth to disguise cosmetic issues. They may be used to change the shape of a tooth, cover rotation, or disguise permanent staining or damage. Two veneers can be used on adjacent teeth to cover a gap that would otherwise require orthodontic treatment.
The process for veneers just takes a few weeks. Our team of professionals start with a consultation appointment and evaluation to determine candidacy for veneers. Once patients have chosen veneer treatment, Dr. Deepak Joshi and his team prepare the teeth. Preparations require the filing down of the front enamel. This ensures the placement of the veneer does not add unwanted bulk. Impressions are made and these precise molds are sent off to a dental laboratory where the veneers are created. Within approximately two weeks, patients return to the dental office for the bonding of the veneers in place.
Veneers are a wonderful option for patients as they are stain resistant and can last many years with proper care. Dr. Deepak Joshi and the team of Kensington Dental work closely with individuals to educate them on these and many other aesthetic services that can enhance the smile. Contact our practice today at (905) 791-7549 and speak to one of our professionals about making an appointment.